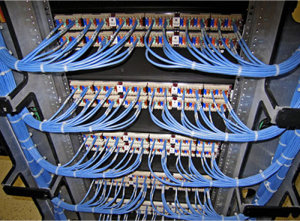 Devine Electric & Data can provide all of your network installation and low voltage cabling and will provide ongoing service and support as needed. We have successfully designed and installed cable networks for various sizes of businesses and residences, and can upgrade or expand your existing cabling infrastructure to include Cat 3, Cat 5e, Cat 6 and Multi-mode or Single-Mode Fiber. Our services include the installation of new voice communication systems or upgrading and relocating existing systems.
Business Cabling
Network and voice cabling is essential to your organization– as it is important for carrying information successfully. Networks today are designed to carry large amounts of information at incredible speed. Because of this, the installation, material, quality of cable and testing procedures are all very important to ensuring that they function properly. To minimize expensive data network problems, Devine Electric & Data follows strict installation and testing guidelines with precise attention to detail.
Residential Cabling
Whether you are building a new home or remodeling, we provide affordable cabling and low voltage wiring for your home communication, computer network, entertainment or low voltage needs.
Call or email us today for an estimate.  We look forward to working with you and will be happy to provide a list of references upon request.